GROUP TOURS
Join one of our small group tours where you will enjoy sharing the Feel Good experience with others.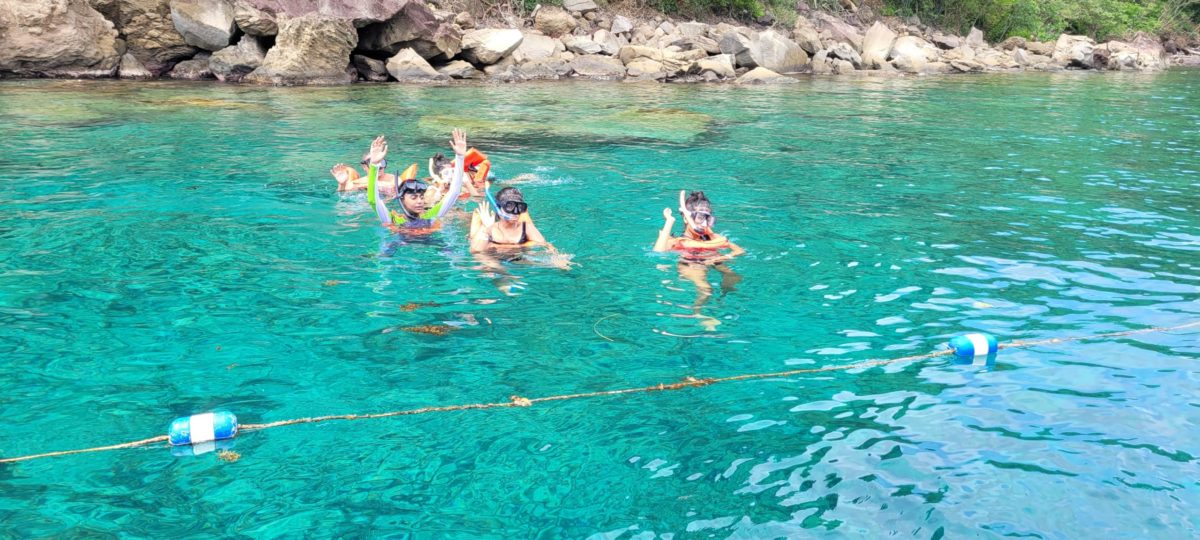 SNORKELING
As you may have heard, Soufriere has the most coral reefs, an amazing underwater life and many well-known snorkeling sites.
PRIVATE TOURS
Enhance your St Lucian experience with an exclusive customized tour for you, your family or friends.
Nothing beats a day on the water!
St Lucia is an island of hidden treasures, Feel Good Water Taxi & Tours will help you explore everything this beautiful paradise has to offer!
Enjoy breathtaking views of St. Lucia's coastline. Soufriere is renowned for its many natural attractions and home base for Feel Good Water Taxi & Tours. One unique way to see St Lucia is by boat and we specialize in offering exciting, adventure packed excursions, private tours and glass bottom boat tours to our clients. We pride ourselves on providing a high level of professional service and care to our clients. We are waiting for you to experience the maximum chill vibes on island time.
Captain Crem (sp) and First Mate Eric were top notch. They brought us from Cap Maison to Sugar Beach. The ride was extremely comfortable, pleasant, and educational. Also captured some fantastic photos for us!
My husband and I had an amazing time with Daniel and Nemo on our boat tour! We went snorkeling and two beautiful locations and the ride was very smooth. We also felt very safe on board during covid-19.
My husband and I secured our booking with Feel Good after reading the amazing reviews. We were not disappointed! Captain Daniel, Nemo and Jamal were absolutely on point for making our private tour a day we'll always remember.
Private Sightseeing, Snorkeling and Bottomless Glass Boat Tours in St. Lucia
Discover the beauty of St. Lucia like never before with Feel Good Water Taxi and Tours. Our boat tours offer an unforgettable adventure, allowing you to explore the stunning Caribbean coastline, pristine beaches, and vibrant marine life that make this island a true paradise. Our boat tours are designed to cater to all your desires. Whether you're seeking a thrilling snorkeling adventure, a relaxing glass-bottom boat tour, or an unforgettable bottomless boat tour, we have something for everyone. Dive into the crystal-clear waters of St. Lucia and explore the vibrant coral reefs, swim alongside colorful fish, and soak in the breathtaking underwater world.
For those who love snorkeling, our snorkeling cruises in St. Lucia are a must-do. Join us for an exciting journey to the best snorkeling spots on the island, where you can immerse yourself in the mesmerizing underwater world, surrounded by tropical fish and stunning coral formations. Our experienced guides ensure your safety and help you discover the hidden treasures beneath the waves. If you prefer a more intimate experience, our private sightseeing tours are the perfect choice. Customize your itinerary and let us take you to the most iconic landmarks, secluded coves, and hidden gems of St. Lucia. Whether it's a romantic getaway, a family adventure, or a group excursion, our private tours provide an exclusive and personalized experience.
We are committed to ensuring you have an unforgettable journey in St. Lucia. Our knowledgeable and friendly crew is dedicated to making your experience safe, enjoyable, and filled with the feel-good vibes that St. Lucia is famous for. Don't miss the opportunity to create lasting memories in paradise. Book your boat tour, snorkeling cruise, or private sightseeing tour with Feel Good Water Taxi and Tours today, and let the beauty of St. Lucia captivate your heart.